LACOSTE Pour Femme Intense Eau de Parfum 90ml
LACOSTE Pour Femme Intense Eau de Parfum 90ml
Lacoste Pour Femme Intense by Lacoste Fragrances is a Floral Woody Musk fragrance for women. Lacoste Pour Femme Intense was launched in 2018. The nose behind this fragrance is Olivier Cresp. Top note is Caramel; middle note is Bulgarian Rose; base notes are Australian Sandalwood, Musk and Himalayan Cedar.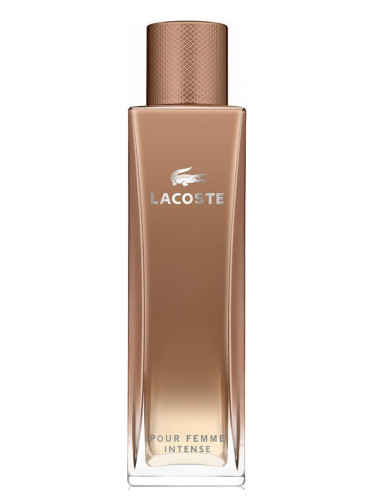 Lacoste Pour Femme, the sporty-elegant female fragrance from 2003, is getting its warmer Eau de Parfum Intense interpretation in 2018, after the Eau de Parfum Légère version from 2017. According to the official description, Lacoste Pour Femme Intense represents the concentrated essence of the cosmopolitan woman and her unique elegance.
The new composition is floral, velvety and woody. It is inspired by the attitude of a strong personality without arrogance, a combination of softness and strength, self-confidence and elegance. Top notes include the subtle aroma of caramel, representing the tan colour of the packaging. The floral heart preserves floral notes of Bulgarian rose from the original, as well as the signature notes of Himalayan cedar and sandalwood at the base.
Lacoste pour femme intense edp
Im not quite sure if it was authentic or tester quality
1. Nice smell2. Smell long last3. Packaging is really niceI think this is really nice and elegant product. Lasted me about 5 months with moderate use to finish it. Smell was nice since day one and didn't fide over time. I am really happy with product and recommend it. With upcoming Christmas season, it might be great gift!
A very nice smelling perfume! I'm shocked to be honest at the price as I would expect it to be more.. Smells more expensive than it should be and looks really nice to
This perfume smells amazing, not too sweet as I hate sweet scents but more like a very classy and feminine smell. It is my new favourite.
Excellent eau du parfum that my wife likes a lot. It has a pleasant citrus scent and seems quite long-lasting. Five stars.
My daughter, aged 18, says she likes the perfume itself but agrees with many other reviewers that it doesn't last long - a couple of hours at the most. It's not particularly expensive but then the scent itself isn't quite as exotic as Lacoste would have you believe. It's probably slightly overpriced with the 'Lacoste brand' making up a third or more of its cost. I guess the company has worked hard to achieve that brand awareness, but really this is a rather ordinary perfume that doesn't turn heads. I suppose you'd have to spend a lot more to make that happen anyway.Another curiosity is that it is described by its maker as 'Bulgarian Rose' while belonging to the 'Oriental' fragrance family.
It's very hard to describe perfumes online but what I will say is that this scent is both feminine and musky at the same time and is a fragrance that I absolutely love, I also think its reasonably priced
Lacoste has done it again. Gorgeous smell once again from one of my favourite brands.The bottle is beautiful and looks great on a shelf in our bathroom!The lovely notes of caramel, bulgarian rose and sandalwood are divine and definitely were made to give off the confidence vibe.Only couple of squirts last a long time and you can top it up half way through the day to keep it going. For me this is a decisive perfume smell but not overpowering which I like. I am really impressed as it makes it a really good value for money. No it isn't a cheap perfume to get but the quality of it justifies the price tag.Confident, fresh smelling perfume in a gorgeous bottle you will get asked what you are wearing by nearly everyone. This was a fabulous present to myself.