[TESTER] Babylon Penhaligon's Unisex Eau De Parfum 100ml [London]
[TESTER] Babylon Penhaligon's Unisex Eau De Parfum 100ml [London]
Babylon by Penhaligon's is a Amber Spicy fragrance for women and men. This is a new fragrance. Babylon was launched in 2019. Top notes are Nutmeg, Saffron and Coriander; middle note is Cypriol Oil or Nagarmotha; base notes are Vanilla, Cedar and Sandalwood.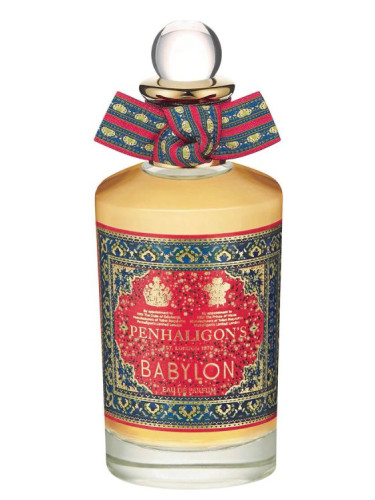 Top notes: Saffron essence, Nutmeg essence, Coriander essence
Middle notes: Cypriol
Base notes: Sandalwood, Sri Lanka essence, Cedarwood, Atlas essence, Vanilla absolute
I get more complements on this scent. Definitely worth the money!
I don't think it's Original, I've been using this perfume since they launched it on the market and the fragrance always lasts quite a bit on the skin and this barely and feels and soon it no longer feels, if I could return, very disappointed 😞No creo que sea Original, uso este perfume desde que lo lanzaron al mercado y siempre tiene bastante duración la fragancia en la piel y este apenas y se siente y al poco tiempo ya no se siente, si pudiera devolver, muy decepcionado 😞
It's the best bottle of perfume EVER
acquisto assolutamente fallimentare!
Very elegant and unique scent. It will last all day long. It is worth every cent.
I first smelled this perfume on someone at work and it smells so good. After I purchased it and tried it it didn't smell good on me so unfortunately I had to give it away.I also find the price of this way too expensive
I'm a guy and I wear this. It's truly a unisex fragrance. The scent lasts all day and I've had guys and girls ask me about it. My wife was not a huge fan of the scent at first, but it appears that the likes it now too. I recommended it to a stranger at duty-free in heathrow and he bought the last bottle. I was disappointed.
Item came very well packed, arrived on time, it has a strong scent, but that's what I like about it perfume. I like perfumes such as "Si Intense by Giorgio Armni."If you prefer scents such as "Dolce & Gabbana Light Blue" this may not be the perfume for you.
I love this scent so much! It's pretty strong when you spray it at first, but the dry down is fantastic and lasts all day.