Versace Versense By Gianni Versace For Women EDT 100ml
Versace Versense By Gianni Versace For Women EDT 100ml
Versense by Versace is a Woody Floral Musk fragrance for women. Versense was launched in 2009. Top notes are Bergamot, Citruses, Green Mandarin, Fig and Pear; middle notes are Cardamom, Lily, Jasmine and Narcissus; base notes are Virginia Cedar, Olive Tree, Musk and Sandalwood.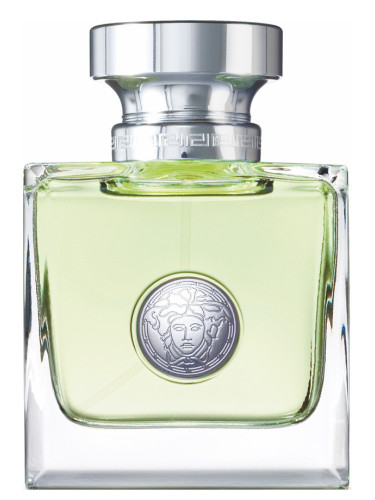 This modern fragrance of a beautiful and rare floral bouquet is composed of elements of the Mediterranean and it represents Versace woman perfectly with its authentic expression and a fusion of freshness and energy. The new fragrance by the house of Versace was named Versace Versense and it promises a lot with its name and composition. It is created for irresistible experience for all senses.
The fragrance Versace Versense is composed of natural tones and it is a picture of awakening of nature, evoking feeling of freedom, movement and balance of internal energy with surroundings and nature. Versense is a walk in a fragrant garden, which contributes to freshness and a stream of feelings, as well as to self-esteem and vitality.
Its composition opens with fruit of the Mediterranean: bergamot and green mandarin, and wraps you with freshness and luminous, optimistic accords with irresistible fig zests. Pleasure will rise with sparks of citruses mixed with fruity aromas. They will take us to a heart ruled by sea lily, rare flower with rare aromas, strengthened with jasmine petals and bitter-spicy accords of cardamom in an elegant way. Base notes leave a cover of woody accords of sandalwood, cedar, olive wood and sensual musk.
Flacon of this perfume is made of see-through glass, created just like its antecedent from 2008, Versace. It is coloured in light green, it is luxurious and decorated with traditional Versace symbols. The new eau de toilette is accompanied with a 200 ml perfumed bath, 200 ml perfumed body milk and 75 ml deo spray. EDT Versace Versense is available in amounts of 30, 50 and 100ml (1, 1.7 and 3 oz) edt. Advertising face for Versense is Toni Garrn, and photographer is Michelangelo di Battista.
I really wish that I would've spent the extra $30 and bought the big bottle this one is just so tiny
This is my first perfume I bought for myself. I like it!I found this when I was looking for some perfume that is neither too aggressive to wear to work, nor too boring to wear on the weekends. And also I was looking for perfumes in the double-digit price-range so that in case I hate the smell this is still lost-controlled. And I think this will be my go-to perfume in the short-term future.I was pretty cautious. Just to be safe, yesterday I sprayed a bit on one of my coats in the morning, so that I was able to experience it before actually wearing this perfume.At first it smell very citrusy / floral, which I'm not the biggest fan of because I think it was too assertive for my personality. But then after a short while the warm and subtle wood tone kicks in, and I love it. So I decided to wear that coat to the concert last night!This morning, I can still smell that subtle and delightful wood-like fragrance. And I love it!I think here's what I'm gonna do in the future: I'm gonna spray my coat and scarf ahead of time, and by the time I wear them, it's the perfect smell.And also I have a cat, so I was super worried about perfume in general. And I was so scared that the citrusy smell will make her hate me. But she doesn't even seem to care. To be honest I did introduced this smell to her while presenting her with her fav treats, so maybe she's just too attracted to her treats. But, I was so happy that my perfume is approved by my cat!
Love this product favorite fragrance
I love this perfume. It is light and smells good on me.
Nice for price.great gift
I didn't know what kind of smell it's gonna be. When I opened it and sprayed, it was the best I've got.
I love this fragrance and have used it for over 20 years.
the size makes it last long
It is definitely giftable
Smells amazing came in the way it was shipped ! 100 percent recommend . Gunna buy one for my momma . The real deal . Smells amazing doesn't smell like flowers nor candy . Smells like actual perfume like guess type of perfume not the scent like guess but you know what I mean . I never really do reviews . But I must for this . Great amazing smell long lasting I washed my hands and scrubbed alcohol and bleach and smell still is strong and still there